Bursitis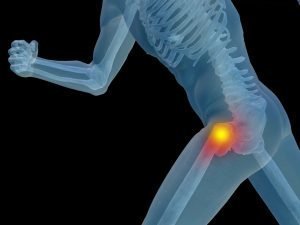 We've all heard of it, what is it? A bursa is like a little water balloon that cushions between 2 structures in your body, most commonly at a spot where a muscle rubs over a bone. Sometimes these little buggers get inflamed and painful, usually for no known reason. The most common spot I see this happen is at the hip. Technically its called trochanteric bursitis. The 2 symptoms that make me suspect bursitis are:
 It hurts to sleep on that side and
The pain is localized to a fairly small spot on the side of the hip. If you let your hands hang naturally by your sides, the area would be up about 6 inches or so from the tip of your middle finger. You'll feel where the "meat" is thin there and you can feel a bone. With bursitis, the tender spot will be just above, just in front, or just behind that bone.
Acupuncture is fantastic for bursitis! Usually 1 or 2 treatments is all that is needed to fix the bursitis and get you out of pain. Do you know someone with this type of pain? Call the office now.